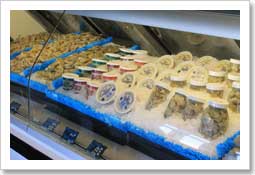 Quality Seafood Market is a locally owned seafood restaurant and retail store located in downtown Elizabeth City, NC offering a variety of fresh seafood along with a full menu of North Carolina homestyle dinners.
Our Retail Market
In retail section of Quality Seafood Market you will find full service shop selling fish, shrimp, crab meat, oysters, clams and more. Along with our wide selection of seafood we carry all the oil, breaders and condiments needed to cook up the perfect seafood dinner at home.
Our Restaurant
At our restaurant our focus is simple, delicious seafood at an affordable price. When visiting you will place your order at the counter and will be given a number. After ordering, while waiting you can fix your own drinks and find a comfortable place in our dining area.  Once your order is ready your number will be called.  We also offer take out services as well as a drive through for the seafood lovers on the go.
Restaurant Menu
SANDWICHES
Oyster Sandwich
Chicken Sandwich
Fish Sandwich
Barbecue Sandwich
Flounder Sandwich
Softshell Sandwich
Crabcake Sandwich
 
DINNERS
Trout Dinner
Shrimp Dinner
Shrimp & Oyster
Popcorn Shrimp
Spot Dinner
Crabcake Dinner
Scallop Dinner
Flounder Dinner
Clam Strip Dinner
Oyster Dinner
Sampler
Barbecue Dinner
Softshell Dinner
Flounder Sampler
Scallop & Shrimp
Broiled Shrimp & Scallop
Catfish Dinner
Steamed Shrimp
Fish & Shrimp
Broiled Flounder
1lb Snow Crab
1/2lb Snow Crab
Oyster & Scallop
Broiled Salmon
SIDE ORDERS
Onion Rings
French Fries
6 Hushpuppies
12 Hushpuppies
Side Clam Strips
Side Flounder Fillet
Side Cole Slaw
Side Spot
Side Popcorn Shrimp
Side Dinner Shrimp
Side Trout Fillet
Side Scallops
2 Softshell Crabs
1 Softshell Crab
Fried Okra
Apple Pie
Side Oysters
Corn Puffs
Side Crabcakes
Hot Wings
Side Steamed Shrimp
1/2lb Snow Crab w/Dinner
BEVERAGES
Soft Drinks
Water
Bottled Water